How to withdrawal cryptocurrency to Visa or MasterCard.
1. Go to the Profile page, select the xBTC, xBCH or xETH account as the current one.
2. Go to the Cashier page >>Withdrawal. When making a withdrawal, enter the number of your bank card or e-wallet in the address field, adding the name of the system and the name of the card before the number. For example: visa_USD 4634****0000, mastercard_USD 5523****0000 or Perfect Money USD 56403424, WMZ Z654879070914.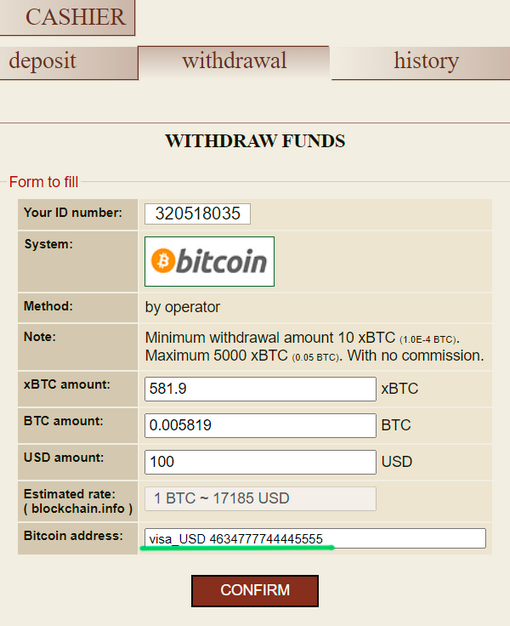 3. When making a withdrawal request, we recommend taking into account the minimum exchange amount for this direction, focusing on exchange offers on the website Bestchange.com.
4. After processing the output, focusing on the service Bestchange.com our operator will make a cryptocurrency exchange transaction indicating your details as a recipient of funds.
During the exchange process, notifications about the progress of the transaction will be sent to your e-mail linked to the casino account, indicating the amounts and the exchange rate.