100 xBTC BONUS OF SLOT MACHINE GUNNER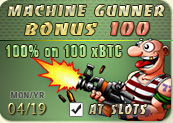 Brief info
Bonus amount 100% on 100 xBTC that player has at the account.
Wager - 50.
You should not wager the entire bonus! You can refuse from wagering of bonus received with availability to withdraw cash from casino at any time.
Details
By using machine gunner bonus (MGB) the player receives bonus 100% to the amount of 100 xBTC.
Bonus wager is 50.
The player can receive machine gunner bonus of his own free will. The player can activate it himself at any time if cash equal to or exceeding 100 xBTC is at his account.
After receiving MGB, new xBTC-slot account appears in the player's profile especially to play slot machines.
After receiving machine gunner bonus, each slot game started will be played on xBTC-slot account cash. The rest games (roulette and poker) will be started on cash of the main xBTC account.
You can receive bonus for unlimited number of times.
You can interrupt bonus received at any time.
To wager machine gunner bonus, games with the following limits are available: 1 credit = 0,01 xBTC
You can receive a new machine gunner bonus if the previous one is already inactive.
Wager amount and wagering
Only the sum of bonus itself is wagered, the sum used to receive bonus should not be wagered. Accordingly to wager bonus received, the player must make bets to 100 xBTC * 50 = 5000 xBTC. 100% of all bets per lines are taken into account at the all slot machines.
In case of complete wagering of machine gunner bonus, the player receives a notification about it in the game window. In this case, all cash from xBTC-slot account are transferred to the main xBTC account in the ratio of 1 to 1, and from now on all open games started on xBTC-slot (if available) will be played on cash of xBTC account. After this, wagered MGB will be closed.
If the entire amount initially being at xBTC-slot account is lost, the player shall close all slots himself, and only then machine gunner bonus will become inactive.
Terms of receipt and refusal from machine gunner bonus
To activate MGB, just click "Receive bonus", appearing at: My Bonuses and Machine Gunner Bonus pages. In this case all unfinished slot games will be automatically closed, and cash will be transferred to xBTC account.
After accepting terms and clicking "Receive bonus", the player will see 200 xBTC at his newly created xBTC-slot account, and the main xBTC account will be reduced by 100 xBTC. In other words, cash will be transferred from xBTC to xBTC-slot account in the ratio of 2:1.
At his discretion, the player at any time can refuse from bonus received independent on whether he played on bonus cash or not. To refuse from bonus received, the player must click "Interrupt bonus" at My Bonuses page. After clicking this button, all unfinished slot games will be automatically closed (if available), with transfer of cash to xBTC-slot account. Then cash will be returned from xBTC-slot account to the main xBTC account in the ratio of 1:2.
Example: 120 xBTC was at xBTC account of the player. The player has activated bonus. 20 xBTC remained at his xBTC account, and exactly 200 xBTC appeared at xBTC-slot account. By running slot machines, the player has managed to increase xBTC-slot account balance to 350 xBTC. As machine gunner bonus can be interrupted at any time, the player has decided to refuse from further wagering. As a result, 175 xBTC returned to his main xBTC account, this is exactly the half of all cash at xBTC-slot account. The account xBTC-slot itself returned to zero and closed. Now there is 195 xBTC at xBTC account of the player.
Terms and Limitations
Receipt of MGB does not impose any limitations to the main player's account, so cash withdrawal from xBTC account and availability to make deposits to own account in casino remains.
Wagering of this bonus is not limited in time.
The player does not take the responsibility to wager the entire bonus completely.
When playing on cash of xBTC-slot account, cash is not wagered from bonus account per each deposit. Also, the game at the Book Of Ra slot machine for xBTC-slot does not bring profit in prize chips and lottery tickets.
It is not possible to make deposit to xBTC-slot account and withdraw cash directly from xBTC-slot account.